Détails

Écrit par

Michael Bourdeau (GDW)

Catégorie : Non catégorisé
Affichages : 1018
We are making updates to serve you better. The shopping cart is temporarily unavailable. Everything will be restored in the next hour.
Détails

Écrit par

Michael Bourdeau (GDW)

Catégorie : Non catégorisé
Affichages : 1169
Nous faisons des mises à jour pour mieux vous servir. Le panier d'achat est indisponible pour le moment. Le tout sera rétablit dans la prochaine heure.
Détails

Écrit par

Alexandra Esper (GDW)

Catégorie : Non catégorisé
Affichages : 4249
ÉTANT DONNÉ LE PRIX DE L'ESSENCE.... NOUS SOMMES DANS L'OBLIGATION DE CHARGER DES FRAIS DE TRANSPORT. 
NOUS SOMMES DÉSOLÉ DE CETTE SITUATION. VEUILLEZ PRENDRE NOTE QU'AUSSITÔT QUE LE TOUT REVIENDRA À LA NORMALE, NOUS HONORERONS NOTRE ENTENTE DE FRAIS DE LIVRAISON.
La livraison est de 8$ au Québec pour tout achat de 150$ ou plus avant taxes. La livraison à 8$ ne s'applique pas aux articles surdimensionnés ou aux livraisons en régions éloignées.
L'envoi de vos commandes est effectué par ICS Courrier. Le délai de livraison sera calculé lors de passer la commande en fonction de l'adresse de livraison de la commande. Veuillez prendre note que nous nous réservons un délai de 5 à 10 jours ouvrables pour les articles que nous n'avons pas stock en magasin.
Pour une livraison EXPRESS, veuillez calculer un délai de 3 à 5 jours ouvrables.
Au délai de livraison, s'ajoute un délai de manutention de 24h à 48h.
Des frais de transport plus élevés peuvent s'appliquer dans les situations suivantes :
Vous habitez une région que le transporteur considère comme éloigné ou difficile d'atteinte. (exemple : Îles de la Madeleine, Kuujjuaq). 
Certains produits volumineux ou lourds tel que les culottes d'incontinences ou l'eau saline. 
Conformément, si le montant des frais de transport calculé au moment de l'achat en ligne diffère du montant réel des frais de transport applicables, Centre de Stomothérapie du Québec vous informera par téléphone ou par courriel de la différence applicable. Vous aurez alors la possibilité d'annuler votre commande.
Commandes de l'extérieur du Québec ou de la zone desservie par nos transporteurs
Les frais de transport des commandes dans les régions éloignées sont une estimation. Les frais réels vous seront communiqués. Les délais de livraison peuvent varier.
Dans tous les cas, vous aurez la possibilité d'annuler votre commande lorsque les frais de livraison et les délais vous seront transmis.
Détails

Écrit par

Alexandra Esper (GDW)

Catégorie : Non catégorisé
Affichages : 2784
 SITUATION COVID 19
ÉTANT DONNÉ LE PRIX DE L'ESSENCE.... NOUS SOMMES DANS L'OBLIGATION DE CHARGER DES FRAIS DE TRANSPORT. 
NOUS SOMMES DÉSOLÉ DE CETTE SITUATION. VEUILLEZ PRENDRE NOTE QU'AUSSITÔT QUE LE TOUT REVIENDRA À LA NORMALE, NOUS HONORERONS NOTRE ENTENTE DE FRAIS DE LIVRAISON.
Free delivery is offered in Quebec with any purchase of $200 or more before taxes. Free delivery does not apply for oversized items and for regions considered distant by our carriers: northern Quebec.
Your orders are shipped by ICS Courier.
Higher transportation fees may apply in the following situations:
If you live in a remote area or an area that is difficult to reach by (for example: Îles de la Madeleine, Kuujjuaq).
When you purchase an item which is bulky or heavy, such as incontinence briefs, saline water, etc.
Accordingly, if the transportation fees calculated during your online purchase are different from the actual fees, Centre de Stomothérapie du Québec will inform you by email or by phone. At that moment, you will have the possibility to cancel your order.
Orders made outside Québec or regions considered distant by our carriers
Transportation fees for orders in remote regions are only an estimate. Actual fees will be communicated to you. Transportation time may vary.
In all cases, you will have the opportunity to cancel your order once you have received the shipping fees and time.
Détails

Écrit par

Alexandra Esper (GDW)

Catégorie : Non catégorisé
Affichages : 3005
Why should I wear medical compression stockings?
Formerly called "varicose stockings" and unloved for their monotonous colors, we eliminated medical compression stockings and put them in the back of our wardrobe.
That time is now over!
Compression stockings have seen their image modernized for more than 15 years. Indeed, the materials have improved dramatically, making it possible to produce more comfortable and aesthetically beautiful stockings, while efficiency is preserved. With us, we see life in color!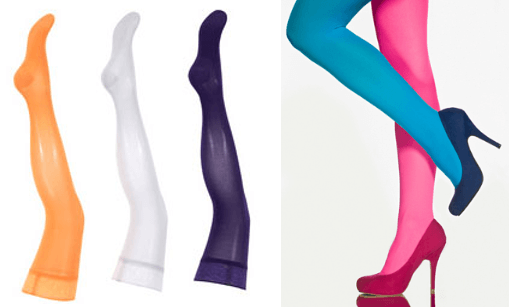 Venous insufficiency
Venous insufficiency has always existed. However in the old days we were more active than today. We walked a lot more! Today we spend a lot more time doing office work, behind our computer screen or behind the wheel of our car. So our blood circulation is worse!


More than 70% of women and 40% of men are affected directly or indirectly by venous insufficiency and develop problems associated with this pathology.


HEAVY LEGS, is one of the first consequences
Have you ever had the impression that your legs were heavy or legs that seemed swollen ... or were you no longer able to put on your shoes because you feel that there is not enough space?
These sensations, not always pleasant, appear especially at the end of the day but they can also occur in hot weather or when you are tired. This is one of the first symptoms of venous insufficiency.
Heavy legs syndrome is a term used to describe a set of subjective symptoms resulting from chronic venous insufficiency, a health problem that affects the veins in the legs. Their role is to return blood to the heart to ensure efficient blood circulation. To do this, they must work against gravity. In normal times, the veins fulfill this role thanks to their elastic nature, the contractions of the muscles around them and the presence of valves that prevent blood from turning back.
It can happen that the veins have difficulty returning blood to the heart, especially if they are less elastic or if the valves with which they are fitted work less well. This then causes blood to accumulate in the legs, leading to chronic venous insufficiency.
Several factors increase the risk of suffering from this problem: 
Smoking
Advanced age
Heredity
Pregnancy
Overweight
Staying seated or standing for long periods
WHAT ARE THE SYMPTOMS AND CONSEQUENCES?
Most symptoms of venous insufficiency are mild, although they can be bothersome. Among the most common are:
Numbness
Feeling of heaviness
Swelling of the legs and feet
Tingling
Muscle cramps
Tingling
Itching
Venous insufficiency sometimes leads to certain complications, including the appearance of varicose veins, i.e. damaged veins often visible on the surface of the skin. In more severe cases of venous insufficiency, skin infections may occur (the appearance of ulcers). A clot can also form at the site of blood accumulation.
In such cases, a medical evaluation is required.
What are compression classes?
The choice of compression force is medically very important and is made by the doctor, depending on each case. For compression stockings, there are four compression classes, ranging from the weakest to the strongest (1 to 4), with precise regulations.
For Canada, a distinction is thus made: class 1 = 20-30 mmHg, class 2 = 30-40 mmHg, class 3 = 40-50mmHg.
What is the compression for?
Compression is the basis of treatment for venous disease. It has indications even at an early stage of venous disease.
The stockings and bands exert a decreasing pressure, that is to say that the pressure exerted is higher at the ankle and gradually decreases towards the top of the leg. Thus, the venous return is improved and overall circulation in the leg is better, because the blood is better oxygenated and the tissues and skin better nourished. Depending on the type and stage of your venous disease, the intended effect will be:
To relieve or prevent the symptoms mentioned above,
Avoid or reduce leg edema,
Avoid or treat complications of the skin linked to your venous insufficiency,
To help the healing of an ulcer,
To prevent or treat phlebitis or venous thrombosis (blood clot in a vein).
HOW TO PREVENT AND RELIEVE HEAVY LEGS
To prevent the effects of venous insufficiency such as swelling and heaviness, there are medical compression stockings. They are the only treatment whose effect has been proven anatomically. By their particular weaving, they exert a mechanical force. Pressure is exerted on the end of the leg, all along the leg because the mesh is tight. There is therefore a venous compression which improves the return of the blood.
However, you can reduce the risk of developing heavy legs syndrome and its symptoms by taking certain lifestyle measures. Here are a few examples:
Avoid staying in one position for too long, including when you are standing. Regular movement of the legs improves blood circulation.
Rest as often as possible.
Exercise on a regular basis to increase the tone of your leg muscles, which helps blood return to the heart. Walking is an excellent choice for physical activity in this context.
Lose weight. Extra weight increases the pressure on the veins in your legs.
Elevate your legs when possible (eg, at the end of a work day). Having your legs elevated facilitates blood return by reducing the impact of gravity.
Avoid crossing your legs when you are sitting.
Avoid hot baths. The heat promotes dilation of the veins, which can affect blood circulation.
Avoid wearing tight clothing or high heels.
Get into the habit of getting a massage from a professional.
Wear compression stockings adapted to your needs.
In addition to these measures, there are very few treatment options available to relieve symptoms of heavy legs syndrome. In some cases, chronic venous insufficiency requires medical treatment.


Please note that compression bands and stockings are medical devices and should not be self-medicated. This is why we often talk about medical compression stockings.


Not all stockings are created equal. They will be prescribed to be adapted to your type of venous disease, its stage of development and your body type. Their indication will be brought by your phlebologist or vascular doctor, after clinical examination and Doppler ultrasound.
So, for example, all edema is not necessarily venous and other causes, such as cardiac, renal, thyroid or the implication of taking a drug, must be eliminated. On the other hand, severe arteritis (clogged arteries in the legs) can be a contraindication for compression, or require a change of class.


Heavy legs syndrome can have a big impact on your quality of life. Fortunately, there are several things you can do to relieve the symptoms.

Take action now to prevent this health problem from also increasing your morale!
What are sports stockings?
Their principle is different. Compared to the "classic" stockings, the decreasing pressure between the ankle and the calf is less important here. The pressure exerted on the calf muscle masses therefore remains high, with the aim of promoting muscle circulation.
There are 2 types: one is worn during sports and the other is designed for recovery after exercise.
These are not medical socks but just support socks.